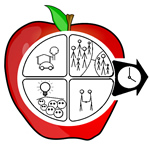 Systems-Based Learning
Marion Brady
New on this website
April 19, 2017: Another new Op-Ed by Marion Brady, published on Washington Post, "The Answer Sheet" blog by Valerie Stauss
"34 problems with standardized tests." Top item here, Also available here.
March 15, 2017: New Op-Ed by Marion Brady, published on Washington Post, "The Answer Sheet" blog by Valerie Strauss
"Why even the world's highest-scoring schools need to change." Second item here, Also available here.
February, 2017: We've renamed the website, revised and renamed Connections: Investigating Reality--now
Introduction to Systems

--and added a webpage and links for the new course now being constructed: Investigating World Cultures.

We renamed the website "System-Based Learning" because that's our big difference from everyone else. But all our materials are still "reality based." Let us know if you find any problems, broken links, etc.